Return to:
List of the online works of the library
Go to:
List of the images in this work
MAC.A.42 - FERDINAND BERTHOUD
,
L'arte di adoperare e regolare gli orioli a pendolo e da tasca. Ad uso di quelli che non hanno cognizione alcuna del mestiere dell'Oriolajo. Opera del signor Ferdinando Berthoud. Tradotta per la prima volta dal Francesce. Firenze MDCCLXXVIII. Per lo Stecchi, e Pagani. Con L. de' S.
Firenze, Stecchi e Pagani, 1778. - Incisore: anonimo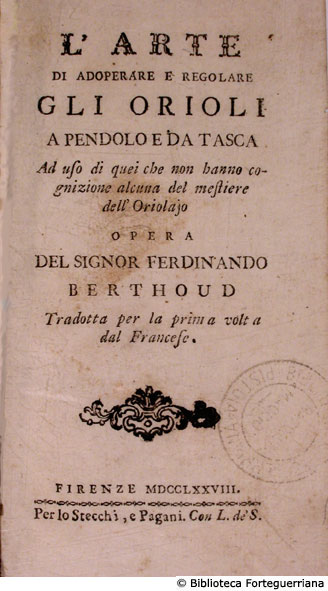 113p., ill. da tav.; 12° - Provenienza: Guido Macciò