Return to:
List of the online works of the library
Go to:
List of the images in this work
Sala II.D.426 - CESARE FIASCHI
,
Trattato dell'Imbrigliare, Maneggiare, et Ferrare Cavalli, diviso in tre parti, con alcuni discorsi sopra la natura di cavalli, con disegni di Briglie, Maneggi, & di Cavalieri a cavallo, & de ferri d'esso, di Cesare Fiaschi gentil Hvomo ferrarese. In Bologna, per Anselmo Giaccarelli. MDLVI.
Bologna, Anselmo Giaccarelli, 1561 - Incisore: anonimo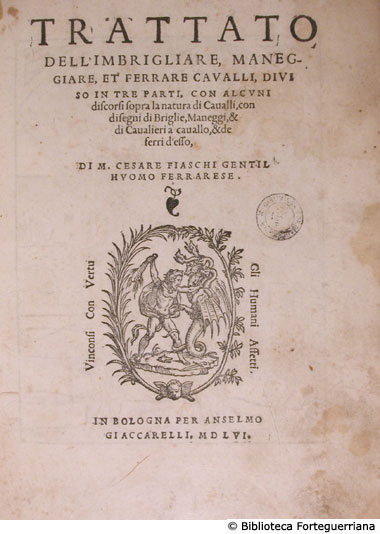 [8], 171, [1] p.: ill.; 4° - Provenienza Niccolò Puccini - Xilografia