Return to:
List of the online works of the library
Go to:
List of the images in this work
Sala II.G.424 - OTTO VON GUERICKE
,
Ottonis De Guericke Experimenta Nova (ut vocantur) Magdeburgica de Vacuo Spatio. Priumum à R.P. Gaspare Scotto, è Societate Jesu, & Herbipolitanae Academiae Matheseos Professore: Nunc vèreo ab ipso Autore Perfectiùs edita, variisque aliis Experimentis aucta. Qiubus accesserunt simul certa quaedam De Aeris Pondere circa Terram; de Virtutibus Mundanis, et Systemate Mundi Planetario; sicut et de Stellis Fixis, ac Sartio illo Immenso, quod tàm intra quam extra eas funditur. Amstelodami, Apud Apud Joannem Janssonium à Waesberge, Anno 1672. Cum Privilegio S. Caes. Majestatis.
Amsterdam, Janssonius van Waesberge, Johannes, 1672 - Incisore: anonimo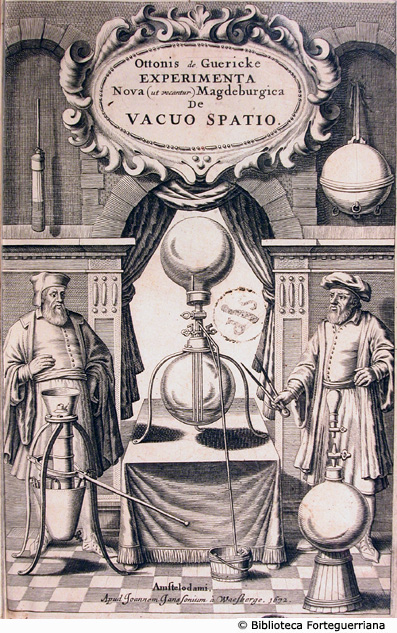 [16], 244, [4] p., ill.; 2° - Calcografia