Return to:
List of the online works of the library
Go to:
List of the images in this work
Sala II.E.6-14
,
Le spectacle de la nature, ou Entretiens sur les particularités de l'histoire naturelle qui ont paru les plus propres à rendre les Jeunes-Gens Curieux, & à leur former l'esprit. ... Contenant ... . Tome ... . Huit' me edition. A Paris, chez la veuveEstienne, rue Saint-Jacques, à la Vertu. ... Avec Approbation et Privilége du Roi.
Parigi, Chez la veuve Estienne, 1741 (Huitieme Edition) -1747 (Nouvelle edition) - Incisore: Jacques-Philippe Le Bas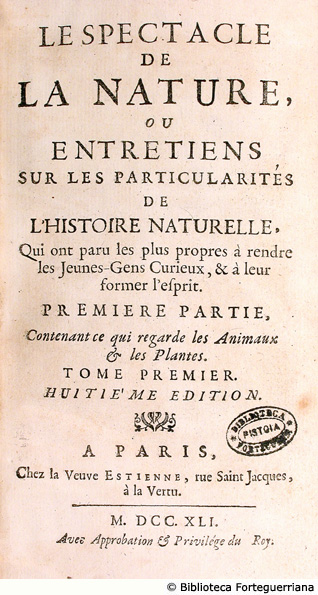 8 vol. in 9 t., (Coll. II.E.6-14), 12° con illustrazioni - Provenienza: Niccolò Puccini. Giusfredi