Return to:
List of the online works of the library
Go to:
List of the images in this work
Ricc. 429
,
Libro d'ore
Sec. XIV fine – XV inizi; Parigi, bottega franco-fiamminga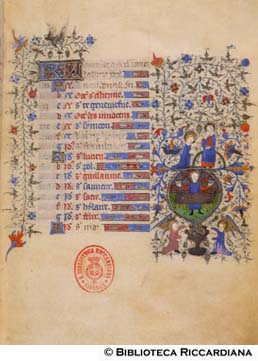 Membr.; mm 205x150; cc. IV, 226 (numerate per 225), IV'. Legatura di restauro in marocchino rosso con recupero di parti della precedente (sec. XVII). Stemma reale dei Valois (cc. 54r/v, 125r, 161r/v).