Return to:
List of the online works of the library
Go to:
List of the images in this work
St. 11090, AGOSTINO RAMELLI
,
LE DIVERSE ET/ ARTIFICIOSE/ MACHINE/ DEL CAPITANO AGOSTINO/ RAMELLI/ DAL PONTE DELLA TRESIA/ Ingegniero del Christianissimo/ Re di Francia et di pollonia. / Nelle quali si contengono varii et industriosi Movi/menti, degni di grandissima Speculatione,/per cavarne beneficio infinito in/ ogni forte d'operatione; Composte in lingua Italiana/ et Francese.
A Parigi in casa dell'autore con privilegio del Re, 1588 - incisori: Leonard Gaultier (frontespizio e ritratto dell'autore), Jean de Gourmont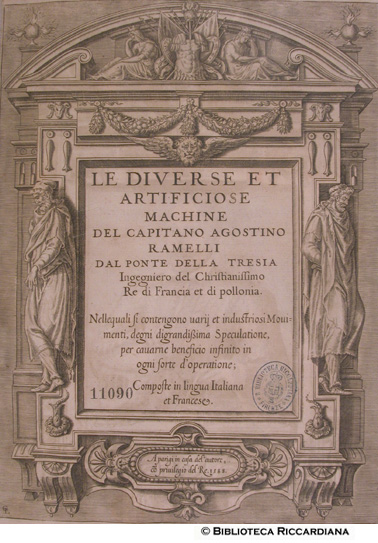 [16] p. 338 ill. fol. Legatura originale su assi in pelle impressa in oro.