Return to:
List of the online works of the library
Go to:
List of the images in this work
LA B.c.3.16-17(SSA2), PRETRUS VAN MUSSCHENBROEK
,
Elementa physicae conscripta in usus academicos a Petro van Musschenbroek quibus nunc primum in gratiam studiosae juventutis accedunt ab alienis manibus ubique auctaria & notae, disputatio physico-historica de rerum corporearum origine, ac demum de rebus coelestibus tractatus. Editio altera neapolitana. Tomus primus (-secundus). Neapoli MDCCLI Typis Benedicti, et Ignatii Gessari. Superiorum Facultate.
Neapoli, typis Benedicti, et Ignatii Gessari, 1751 - Incisioni: Filippo De Grado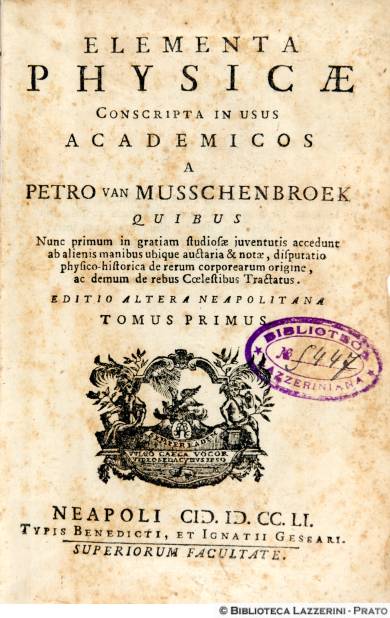 2 v. : ill. ; 8° (19 cm) - Marca tipogr. sui front.