Return to:
List of the online works of the library
Go to:
List of the images in this work
LA B.c.1.16(SSA2), AIME-HENRI PAULIAN
,
Dictionnaire des nouvelles découvertes faites en physique, pour servir de supplément aux différentes éditions du Dictionnaire de physique. Dédié au Roi ... Par M. Aimé-Henri Paulian ...
A Nîmes : chez Gaude, pere, fils & Compagnie, libraires ; A Avignon : chez J. J. Niel, imprimeur-libraire, rue de la Balance, 1787. - Incisioni: anonimo XVIII sec.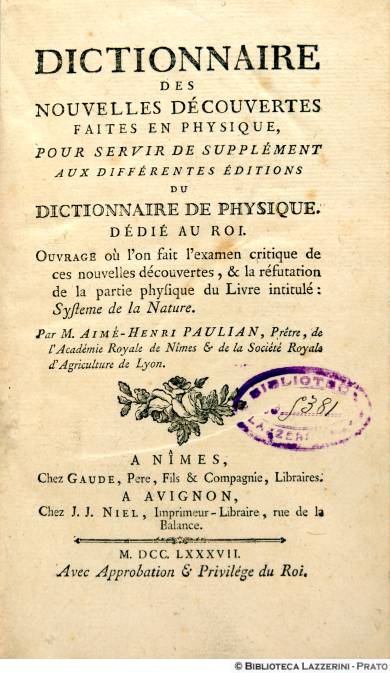 [4], XXXVIII, [II], 523, [3] p., [1] c. di tab. ripieg., [1] c. di tav. ripieg. : ill. ; 8° (20 cm)
Segn.: [pi greco]2 a-b8 c4 A-2K8(-2K8). - Impronta: esre l?ar lede tequ (3) 1787 (R)
Altro titolo: Dictionnaire de physique, dédié au Roi