Return to:
List of the online works of the library
Go to:
List of the images in this work
LA B.c.1.12-15(SSA2), AIMÉ-HENRI PAULIAN
,
Dictionnaire de physique, dédié au Roi. Par M. Aimé-Henri Paulian, prêtre, de l'Académie Royale de Nîmes ... Tome premier (-quatrieme). - Huitieme édition, revue, corrigée & enrichie des découvertes faites dans cette science, depuis l'année 1773.
A Nimes : chez Gaude, père, fils & Compagnie, libraires ; A Avignon : chez J. J. Niel, imprimeur-libraire, 1781. - Incisioni: anonimo XVIII sec.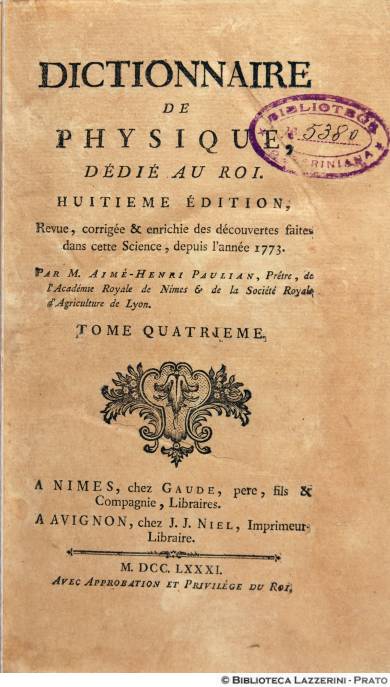 4 v. : ill. ; 8° (21 cm) - Sul front. l'indicazione di ed. precede quella di A.