Return to:
List of the online works of the library
Go to:
List of the images in this work
LA A.r.6.16(SSA2), PETRI VAN MUSSCHENBROEK
,
Dissertatio physica experimentalis de magnete Lugduni Batavorum anno MDCCXXIX edita nunc vero auditoribus oblata.
Viennae Austriae : typis Joannis Thomae Trattner, caesareae regiae aulae bibliopolae & univers. typographi, 1754. - Incisioni: anonimo XVIII sec.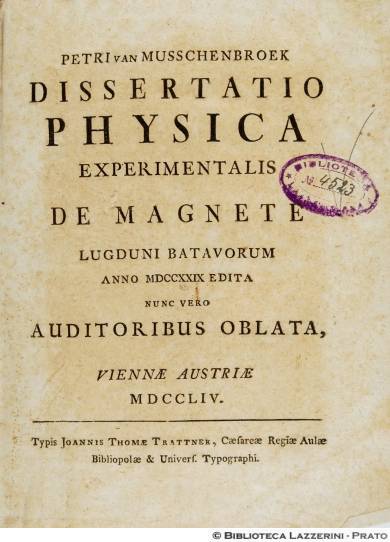 [4], 283, [1] p., 9 c. di tav. ripieg., [1] c. geogr. ripieg. ; 4° (22 cm)
Segn.: [pi greco]2 A-2M4 2N2. - Impronta: r-r, u.i- t.o- dibu (3) 1754 (R)