Return to:
List of the online works of the library
Go to:
List of the images in this work
LA A.i.6.58(SSA2), ANDREA BINA
,
Electricorum effectuum explicatio, quam ex principis newtonianis deduxit, novisque experimentis ornavit D. Andreas Bina mediolanensis o.s.b. Congregationis Casinensis monachus, ac in Monasterio S.Justinae philosophiae lector.
Patavii : ex typographia Joan. Bapt. Conzatti, 1751. - Incisioni: anonimo XVIII sec.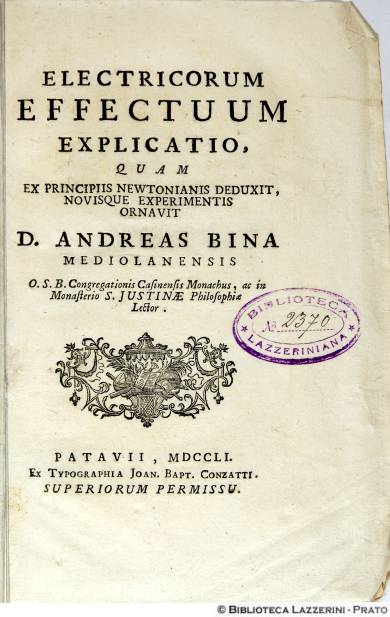 157, [7] p., [1] c. di tav. ; 8° (20 cm)
Segn.: A-K8 [chi]2. - C. K8 bianca. - In calce all'antip.: Nova et facilis Electricae Machinae constructio. - Impronta: esr- o-a- ueum rucu (3) 1751 (R)