Return to:
List of the online works of the library
Go to:
List of the images in this work
LA (SSA2) 008218, FERDINAND LUDWIG VON HARRSCH UND ALMEDINGEN
,
Pyrotechnia sublimis saeculi primaevi, vel liber meteororum Ferdinandi Ludovici ... comitis ab Harrsch et Almedingen ... .
Viennae : typis Joannis Thomae de Trattnern, caes. reg. aulae typogr. et bibliop., 1778. - Incisioni: Engelman.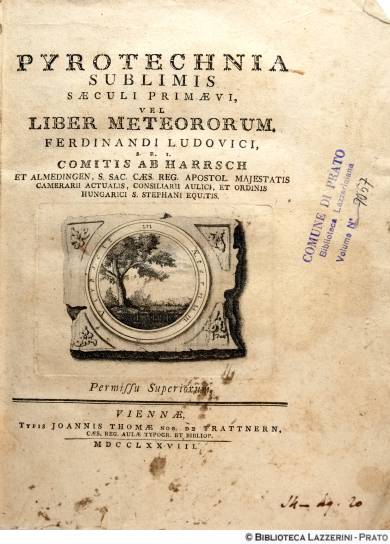 [20], 131, [1] p., [2] c. di tav. ripieg. ; 4° (27 cm) Segn.: a-b4 c2 A-Q4 R2. - Impronta: R.D. m.n- s,em tupo (3) 1778 (R) - Manca la vecchia segnatura Lazzerini antico