Return to:
List of the online works of the library
Go to:
List of the images in this work
LA(SSA1) Inv 001322, ALBRECHT VON HALLER
,
Memoires sur la nature sensible et irritable, des parties du corps animal; par Monsieur Alb. de Haller Président de la Société Royale des Sciences de Göttingue, Membre de l'Académie Royale des Sciences de Paris, Londres, Berlin, & c, & c. Tome premier (-quatrième).
A Lausanne : chez Marc-Mic. Bousquet & Comp. ; et se vend à Paris : chez Durand, ruë du Foin, 1756-1760. - Incisioni: anonimo XVIII sec.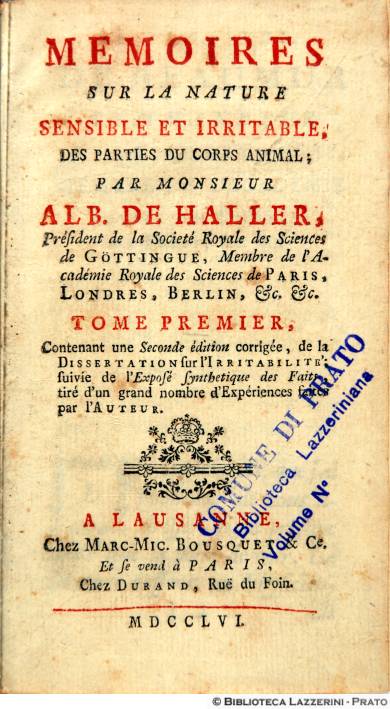 4 v. ; 12° (16 cm)
Front. in rosso e nero. - I vol. 2-4 pubblicati nel 1760 a Losanna da Sigismond d'Arnay
vol. 1 Manca la vecchia segnatura Lazzerini antico