Return to:
List of the online works of the library
Go to:
List of the images in this work
Vol. Inc. 663/1, DECIMUS JUNIUS JUVENALIS
,
Iu. Iuvena/lis aquinatis Saty/rographi Opus. Interprete Joan-/ne Britannico viro eruditissimo./ Una cum Iodoci Badii Asce-/sii familiaribus explanatio-/nibus. Cum figuris apte/ appositis. Index prae-/terea omnium rerum/ in margine existen-/tium secundum/ ordinem Alphabeticum:/ ut facilius quaecumque/ volueris inueni-/re possis.
Venezia, Giovanni Antonio Rusconi e Giovanni Francesco Rusconi, 1523 - Xilografie: anonimo italiano XVI sec.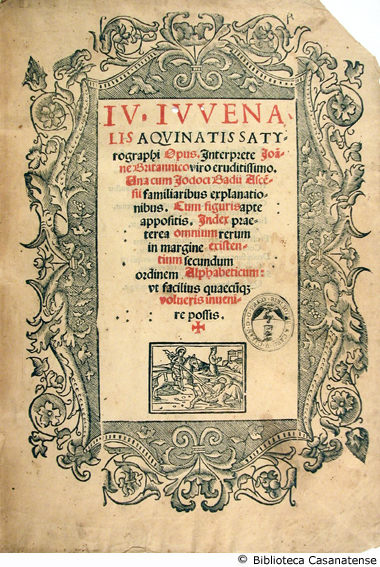 Fol. [6], CLXIII c.: ill.,.