Return to:
List of the online works of the library
Go to:
List of the images in this work
S. I. 1-16 CCC; T. I. 1-13 CCC, a cura di Henry Duhamel du Monceau
,
Descriptions/ des Arts/ et Métiers,/ faites ou approuvées/ par messieurs/ de l'Académie Royale/ des Sciences./ Avec Figures en Taille-douce./ A Paris, Chez Desaint & Saillant, Libraires, rue Saint Jean de Beauvais./ MDCCLI./ Avec approvation & privilege du Roi.
Parigi, Jean Desaint & Charles Saillant, 1761
"Gli incisori dell'Encyclopèdie di Diderot furono accusati di aver saccheggiato gli archivi privati dell'Accademia delle Scienze ed aver copiato le tavole della Description des arts et mètiers. Il dibattito giudiziario sarebbe durato fino al 1778 concludendosi con il rigetto della querela" (cfr. http://classes.bnf.fr/dossitsm/fabrency.htm in 'Fabrique de l'Encyclopèdie').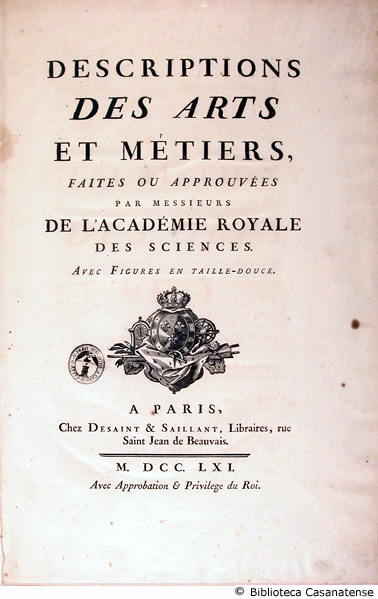 Fol. 29 v.; ill. calc. - Il v. 28, andato smarrito, dovrebbe contenere la seconda parte dell'Art du tourneur di père Hulot.