Return to:
List of the online works of the library
Go to:
List of the images in this work
R. I 15 CCC/50-77, GIUSEPPE MARIA MITELLI
,
Le ventiquattr'hore/ dell'hvmana felicità/ consacrate/ all'em.[inentissi]mo et rev.[erendissi]mo prenc.[ep]e card/ d. Gio. Nicola Conti./ Invenzione disegno e intaglio/ di/ Givseppe M.a Mitelli/ pittore bolognese/ 1675.
Bologna, 1675 - Calcografie: Giuseppe Maria Mitelli
La serie incompleta è presente anche nella biblioteca Comunale Forteguerriana di Pistoia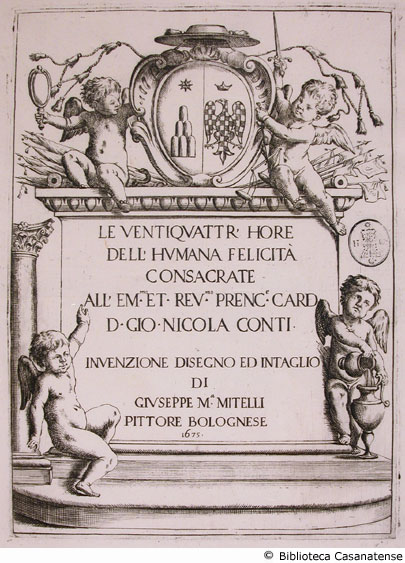 fol. [3], 24, [1] c. di tav. - Ill. calcografiche.