Return to:
List of the online works of the library
Go to:
List of the images in this work
O. VII. 24 CCC
,
Herbarvm,/ arborvm, frvcticvm, frvmentorvm ac le-/guminum, animalium praeterea terrestrium, uolatiliu[m] & aquatilium, aliorum[que]/ quorum in medicinis usus est, simplicium, imagines, ad uiuum recens depictae,/ vna cum eorundem nomenclaturis variarum linguarum usitatis, viri-/bus item & facultatibus peculiaribus./ .../ Cum priuilegio Imp. Franc. apud Chr. Egenolphum.
Francoforte, Christian Egenolff, 1552 - Xilografie: anonimo tedesco XVI sec.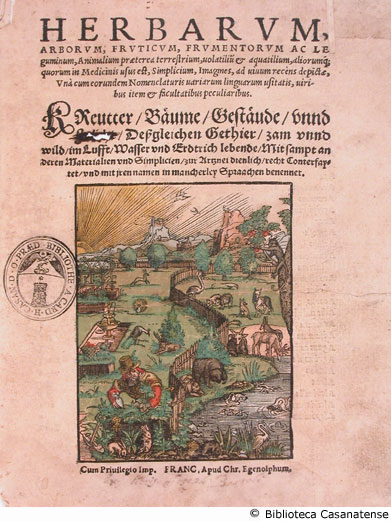 4° [16], 314 (i.e. 308), [2] p. , ill.
Ill. xilografiche colorate ad acquarello.