Return to:
List of the online works of the library
Go to:
List of the images in this work
O. III. 1, GIOVANNI BATTISTA FERRARI
,
Hesperides/ sive/ de malorvm aureorvm/ cvltvra et vsv/ libri quatuor/ Io: Baptistae Ferrarii Senensis/ e Societate Iesv./ Romae,/ Sumptibus Hermanni Scheus./ MDCXLVI./ Svperiorvm permissv.
Roma, Hermann Scheus e Vitale Mascardi, 1646 - Calcografie: Pietro da Cortona (disegnatore) - Greuter Friederich. (incisore) - Bloemaert Cornelis (incisore) - Cungio Camillo (incisore) - Goyrand Claude (incisore)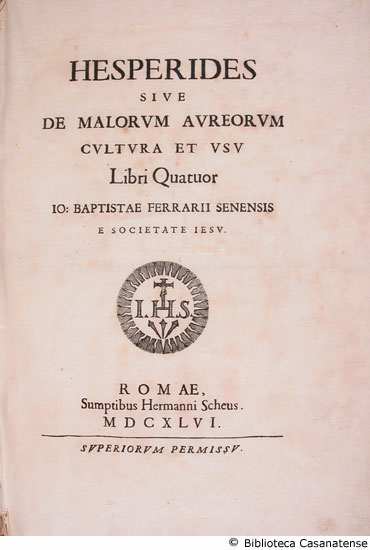 fol. [12] 480, [16] p. ill., front. inciso - Ill. calcografiche.
Questa edizione è famosa anche per le illustrazioni che accompagnano il testo : il frontespizio, disegnato da Pietro da Cortona, è stato inciso dal Greuter ; le tavole sono di Cornelis Bloemaert, di Camillo Cungio e del Goyrand su disegni di vari artisti.