Return to:
List of the online works of the library
Go to:
List of the images in this work
L. VIII. 6. CCC, DANIEL CRAMER
,
Octoginta emblemata moralia nova, e sacris literis petita, formandis ad veram pietatem accomodata, & elegantibus picturis aeri incisis repraesentata, ingenio Dn. Danielis Crameri SS.Theologiae doctoris collecta. Ab ipso Auctore epigrammatibus Latinus Germanicisque expressa, deinde vero à M.C.R. versibus Gallicis & Italicis illustrata, & ad instar Philothecae Christiana adornata. Francofurti, sumptib. Lucae Jennisii, MDCXXX
Francoforte, per Lucas Jennis, 1630 - Calcografie: Anonimo tedesco sec. XVII (incisore)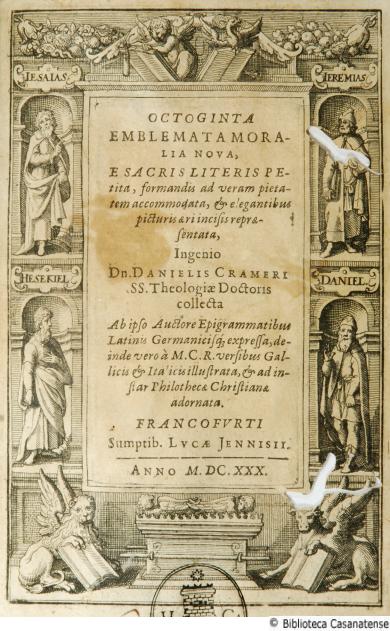 [16], 317, [3] p. ; ill. - Inc. calcografiche.