Return to:
List of the online works of the library
Go to:
List of the images in this work
K. II. 24. CCC
,
Recueil de cent estampes representant differentes nations du Leuant, gravées sur les tableaux peints d'apres nature en 1707, & 1708. Par les ordres de M. De Ferriol ambassadeur du Roi a la Porte; et mis au jour en 1712 & 1713. par les soins de M. Le Hay. A Paris, chez Basan graveur, avec privilege du Roi, 1714.
Parigi, Le Hay, 1714 - Calcografie: Gerard Scotin l'Ancien (incisore), Jean Baptiste Scotin I (incisore), Jacques de Franssieres (incisore), Claude Du Bosc (incisore), Philippe Simonneau le Fils (incisore), Jean Baptiste Haussard (incisore).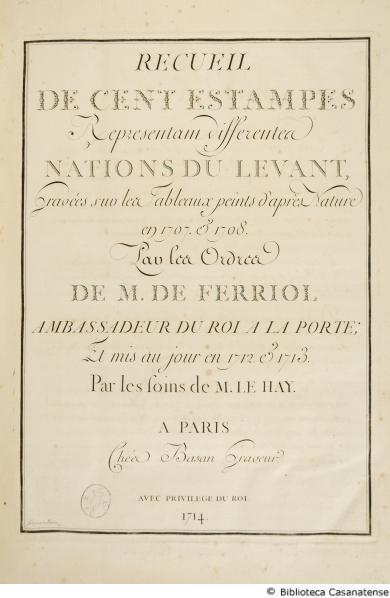 fol., [2], XIV p., 100, [2] c. di tav. - Incisioni calcografiche