Return to:
List of the online works of the library
Go to:
List of the images in this work
20. A. VI. 65, JOST AMMAN
,
Gynaeceum, sive theatrum mulierum. Quo praecipuarum omnium per Europam in primis, nationum, gentium, popolorumque, cuiuscunque dignitatis, ordinis, status, conditionis, professionis, aetatis, foemineos habitus videre est, artificiosissimis nunc primum figuris, neque usquam antehac pari elegantia editis, expressos à Iodoco Amano. Additis ad singulas figuras singulis octostichis Francisci Modii Burg. Opus cum ad foeminei sexus commendationem, ... MDLXXXVI. Francoforti, impensis Sigismundi Feyrabendij.
Francoforte sul Meno, Sigismund Feyerabendt, 1586 - Calcografie: Jost Amman (incisore)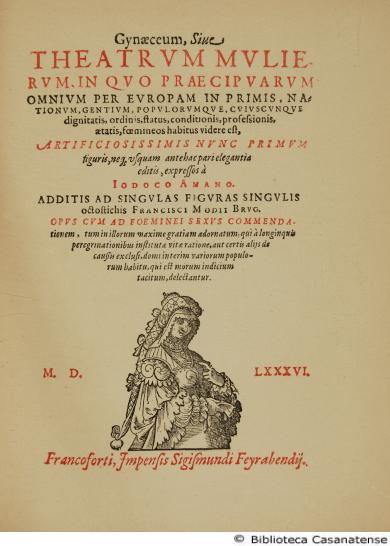 fol. 4˚, [122] p. : ill. - Incisioni xilografiche - Frontespizio in rosso e nero.
Ristampa anastatica pubblicata a Londra nel 1872 dell'originale di Jost Amman.