Return to:
List of the online works of the library
Go to:
List of the images in this work
20. A. III. 61, DAVID TÉNIERS II IL GIOVANE
,
David Teniers Antuerpiensis pictoris et a cubiculis sererenissimis principibus Loepoldo Guil. archiduci, & Ioanni Austriaco Theatrum pictorium, in quo exhibentur ispius manu delineatae, ejusque curam in aes incisae picturae, archetipae Italicae, quas ipse sererenissimus archidux in pinacothecam suam Bruxellis collegit. Eiusdem serenissim principi Leopoldo Guil. Archiduci &c ab auctore dedicatum. Antuerpiae, venales extant apud Iacobum Peeters, in foro Calceorum sub signo Montis Agnorum. M.D.LXXXIV. Cum privilegio regis.
Antwerpen, Jacob Peeters, 1684 - Calcografie: Coryn Bol (incisore), Jacopo Bassano (autore), Jan Ossenbeeck (incisore), Nicolas de Hoey IV (disegnatore), Franciscus van der Steen (incisore), Bartolomeo Manfredi (autore)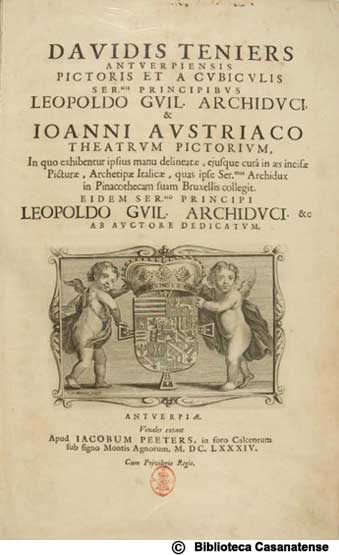 fol., [4], 246 c. di tav. - Incisioni calcografiche.