L Settimana di Studi
Reti marittime come fattori dell'integrazione europea - Maritime Networks as a Factor in European Integration
ISBN: 978-88-6453-856-3
Prato, 13-17 Maggio 2018
Firenze, 2019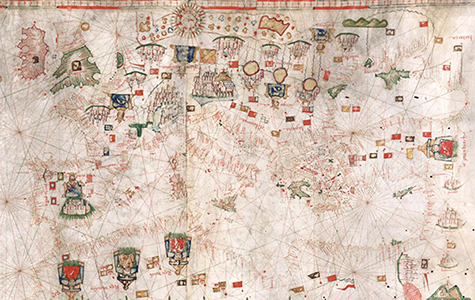 Carta Nautica, 1520

Erik Aerts
(Louvain), A titolo introduttivo: 50 anni Datini, p. 1
Michael North
, Mari connessi, p. 5
IN CHE MODO LE ROTTE DI NAVIGAZIONE SONO SERVITE COME ELEMENTO DI CONNESSIONE? / HOW DID SHIPPING ROUTES SERVE AS A CONNECTING FORCE?
Luciano Palermo
(Roma), Il sistema degli scambi nel Mediterraneo occidentale tra XIV e XV secolo e il porto di Roma, p. 29
Angela Orlandi
(Firenze), Between the Mediterranean and the North Sea: Networks of Men and Ports (14th-15th Centuries), p. 49
David Igual Luis
(Castilla-La Mancha), Movimento portuale, reti marittime e diversità dei mercati a Valenza nel XV secolo, p. 71
Wendy R. Childs
(Leeds), England's Maritime and Commercial Networks in the Late Middle Ages, p. 89
Nenad Fejic
(Antilles), Extension, ramification, temporalité et dangerosité d'un grand réseau, situant Raguse (Dubrovnik) au point nodal des échanges entre la Péninsule Ibérique et l'Orient méditerranéen (XIII-XV siècle), p. 117
Renard Gluzman
(Tel Aviv),
Gerassimos Pagratis
(Atene), Tracking Venice's Maritime Traffic in the First Age of Globalization: A Geospatial Analysis, p. 135
Pierrick Pourchasse
(Bretagne Occidentale), Les réseaux négociants européens et les échanges entre la France et l'Europe du Nord (XVIIe-XIXe siècles), p. 155
Jari Ojala
(Jyväskylä), Maritime Information Networks between Northern and Southern Europe during the Eighteenth Century, p. 183
IN CHE MODO I PUNTI NODALI HANNO MESSO IN RELAZIONE SFERE COMMERCIALI DIVERSE? / HOW DID NODAL POINTS BRING TOGETHER DIFFERENT COMMERCIAL SPHERES?
Louis Sicking
(Amsterdam - Leiden), Funduq, Fondaco, Feitoria. The Portuguese Contribution to the Globalisation of an Institution of Overseas Trade, p. 197
Werner Scheltjens
(Leipzig),The Dutch Republic as Example of Maritime Transport Services Clusters in Preindustrial Europe (ca. 1650-1800), p. 209
Maria Ryabova
(Moscow), Venetian Trading Firm of the Soranzo Brothers (1406-1434) and Its Commercial Network, p. 229
Benedetto Ligorio
(Roma Sapienza), Un ponte tra ottomani e cristiani. Il network degli ebrei di Ragusa tra Balcani e Adriatico (1585-1635), p. 255
Luisa Piccinno, Andrea Zanini
(Genova), Genoa: Colonizing and Colonized City? The Port City as a Pole of Attraction for Foreign Merchants (16th- 18th centuries), p. 281
Francis Brumont
(Toulouse), Deux ports semblables, mais que tout oppose: Bordeaux et Rouen au XVIe siècle, p. 297
Manuel F. Fernández Chaves, Rafael M. Pérez García
(Sevilla), Textiles Market in l6th Century Seville: Business and Mercantile Groups, p. 317
Joana Sequeira, Flávio Miranda
(Porto), 'A Port of Two Seas.' Lisbon and European Maritime Networks in the Fifteenth Century, p. 339
Gelina Harlaftis
(Corfu), Black Sea and its Maritime Networks, 1770s-1820s. The Beginnings of its European Integration, p. 355
IN CHE MISURA IL LIBERO SCAMBIO E IL PROTEZIONISMO FACILITARONO L'INTEGRAZIONE DI RETI MARITTIME? / TO WHAT EXTENT DID FREE TRADE AND PROTECTION FACILITATE THE INTEGRATION OF MARITIME NETWORKS?
Justyne Wubs-Mrozewicz
(Amsterdam), Maritime Networks and Premodern Conflict Management on Multiple Levels. The Example of Danzig and the Giese Family, p. 385
Guillaume Calafat
(Paris Sorbonne), Un réseau corse entre 1'Afrique du Nord et l'Europe. Commerce maritime, institutions et enrichissement au tournant des XVIe et XVIIe siècles, p. 407
QUALI CARATTERISTICHE DELLO SCAMBIO CULTURALE O DI PRODOTTI PARTICOLARI SONO SERVITI A INTEGRARE LE RETI MARITTIME? / WHICH FEATURES OF CULTURAL EXCHANGE SERVED TO INTEGRATE MARITIME NETWORKS OR WERE THEIR PARTICULAR PRODUCTS?
Richard Unger
(Vancouver), Markets and Merchants: Commercial and Cultural integration in Northwest Europe, 1300-1700, p. 431
Leos Müller
(Stockholm), Swedish Trade and Shipping in the Mediterranean in the 18th Century, p. 453
SCAMBI INTERCONTINENTALI / INTERCONTINENTAL EXCHANGES
Stefania Montemezzo
(Helsinki Aalto), Ships and Trade: The Role of Public Navigation in Renaissance Venice, p. 473
Renato Ghezzi
(Catanzaro), Italian Ports and the Levant in the 16th and 17th Centuries, p. 485I
Federico Pigozzo
(Verona),
Helmut Rizzolli
(Innsbruck), Economic and Social Aspects of the Trade of Luxury Goods between Africa and Europe: Ostrich Feathers
Paolo Calcagno
(Genova), Attraverso la porta di Lisbona: i generi coloniali volano del commercio luso-genovese tra XVII e XVIII secolo, p. 519
Luca Lo Basso
(Genova), Traffici globali. Corallo, diamanti e tele di cotone negli affari commerciali dei Genovesi in Oriente, p. 533
Abstract, p. 555