XLVII Settimana di Studi
LE CRISI FINANZIARIE: Gestione, implicazioni sociali e conseguenze nell'età preindustriale • THE FINANCIAL CRISES: Their Management, Their Social Implications and Their Consequences in Pre-industrial Times.
Prato, 10-13 Maggio 2015
Firenze, 2016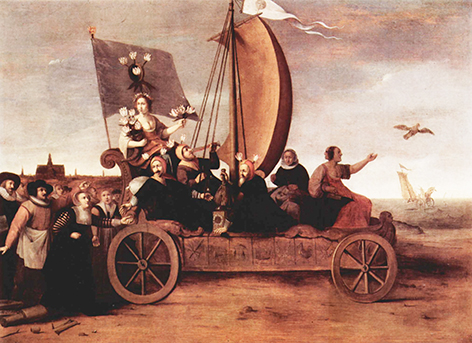 Hendrick Gerritsz Pot, Flora's Mallewagen, 1637 ca.
© Frans Hals Museum, Haarlem
PROLUSIONE
Marco CATTINI
(Milano Bocconi), Le crisi finanziarie: gestione, implicazioni sociali e conseguenze nell'età preindustriale
ANALISI DELLE CRISI FINANZIARIE / ANALYSING FINANCIAL CRISES
Philip Robertson RÖSSNER
(Manchester - Leipzig), The Crisis of the Reformation (1517) : Monetary and Economic Dimensions of a Change in Paradigm
Maurizio PEGRARI
(Verona), Parigi 1720. Una città e la sua crisi
Alessandra BULGARELLI
(Napoli), Far fronte alla crisi della finanza locale: riforme contabili e nuovo patto fiscale tra governo e comunità locali nel Regno di Napoli (XVII secolo)
José Ignacio FORTEA PÉREZ
(Cantabria), Hacienda real y haciendas locales en la crisis del siglo XVII: el ejemplo de Castilla
Gilbert LARGUIER
(Perpignan), Exposition et vulnérabilité différenciées des communautés locales face aux crises financières. L'exemple du Roussillon et du Languedoc (Catalogne – France méridionale) XVIIe-XVIIIe siècles.
Emanuele C. COLOMBO, Marco DOTTI,
(Milano Cattolica), Usi del debito locale e cultura della rendita. Casi dalla Lombardia spagnola (17°-18° secoli)
LA GESTIONE DELLE CRISI / CRISIS MANAGEMENT
Albert ESTRADA RIUS (Barcellona)
,
Federico PIGOZZO
(Verona),
Helmut RIZZOLLI
(Innsbruck), Strategie monetarie a confronto durante la grande crisi europea dell'argento (metà XIV secolo): Italia, Tirolo e Corona d'Aragona
Pere ORTI GOST
(Barcellona),
Pere VERDÉS PIJUAN
(Girona), The Crisis of Public Finances in the Towns of Late Medieval Catalonia (1350-1500)
Alan STAHL
(Princeton), The Mint of Venice in the face of the Great Bullion Famine
Matteo Di Tullio
(Milano Bocconi),
Davide MAFFI
(Pavia),
Mario RIZZO
(Pavia), Il fardello della guerra. Governo della finanza pubblica e crisi finanziarie nello Stato di Milano fra centri e periferie (secc. XV-XVII)
IL RUOLO DEI (RE)ATTORI / THE ROLE OF THE (RE)ACTORS
David KUSMAN, Jean-Luc DEMEULEMEESTER
(Bruxelles), Near-Default to Debt Restructuring: the Inventive Methods of the Duke of Brabant and His Council around 1313-1320 for the Salvation of the Princely Finances
Elena Maria GARCÍA GUERRA
(Madrid),
Giuseppe DE LUCA
(Milano), Decadencia y desventura de un negocio en crisis: la banca castellana a finales del siglo XVI y su próspero contrapunto milanés
Koji YAMAMOTO
(Kings College London), "I Invest, You Speculate, They Gamble": James Brydges the First Duke of Chandos during the South Sea Bubble
Claudio MARSILIO
(Lisbona), "Sono tempi che corrono accidenti non prevedibili". Come gli hombres de negocios genovesi (re)agirono alle insolvenze della corona spagnola (1621-1648) tra speculazioni finanziarie e mercato del credito e dei metalli preziosi
Giovanni CECCARELLI
(Parma), Operare nelle bolle. Comportamenti e strategie nei mercati assicurativi della prima età moderna
Mathieu SCHERMAN
(Scuola francese Roma), Observations sur les conséquences financières d'une crise politique : l'expulsion des Florentins de Venise vue de la comptabilité Salviati (1451-1454)
Katia BEGUIN
(Paris), Paris in Financial Turmoil (1648-1652) and the Birth of a New Way of Borrowing for French Monarchy
IL RUOLO DELLE ISTITUZIONI / THE ROLE OF INSTITUTIONS
Markus DENZEL
(Leipzig), The Role of Institutions in Financial Crises: Fairs - Public Banks - Stock Exchanges (13th to 18th Century)
Krzysztof BORODA, Piotr GUZOWSKI
(Bialystock), From King's Finance to Public Finance. Different Strategies of Fighting Financial Crisis in the Kingdom of Poland under Jagiellonian Rule (1386-1572)
Isabella CECCHINI
(Venezia), finanziaria e intervento pubblico: Venezia 1600-1630
Antal SZÁNTAY
(Budapest), "Vitam et sanguinem, sed avenam non". Habsburg State Finances and Hungary in the 18th Century
CONSIDERAZIONI CONCLUSIVE / CLOSING REMARKS
Larry NEAL
(University of Illinois), Final Considerations: The Role of Financial Systems in the Crises of Pre-Modern Europe