XLI Settimana di Studi

LE INTERAZIONI FRA ECONOMIA E AMBIENTE BIOLOGICO NELL'EUROPA PREINDUSTRIALE. Secc. XIII-XVIII • ECONOMIC AND BIOLOGICAL INTERACTIONS IN PRE-INDUSTRIAL EUROPE from the 13th to the 18th Centuries.
Prato, 26-30 aprile 2009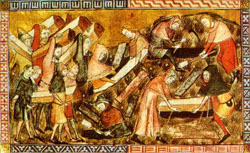 in, GILLES LE MUISIT,
Annales,
Bruxelles, Bibliotheque Royale du Belgique, Ms. 13076-7, c.24t
Fiandre 1352
© BIBLIOTHÈQUE ROYALE DU BELGIQUE, BRUXELLES
Domenica 26 aprile
APERTURA DEI LAVORI
WIM BLOCKMANS
(Presidente del Comitato scientifico), p. 3
GIORGIO COSMACINI
(Milano), Lectio Brevis, p. 7
Lunedì 27 aprile
BIOLOGIA IN CRESCITA O IN DECLINO: LA PATOLOGIA MUTEVOLE DI PESTILENZE, PARASSITI E AGENTI PATOGENI / BIOLOGY IN THE ASCENDANT OR IN ABEYANCE: THE CHANGING PATHOLOGY OF PESTS, PARASITES, AND PATHOGENS
Relazioni
BRUCE M.S. CAMPBELL
(The Queen's University of Belfast), Physical Shocks, Biological Hazards, and Human Impacts: The Crisis of the Fourteenth Century Revisited, p. 13
SAMUEL COHN
(University of Glasgow), Changing pathology of Plague, p. 33
Comunicazioni
JORDI GÜNZBERG MOLL
(Universidad de Girona), Epidemias y mortalidad en la Cataluña medieval: 1300-1500, p. 57
CLAIRE BILLEN
(Université Libre de Bruxelles), L'ergot, le seigle et la villee, p. 81
DAVID CELETTI
(Università di Padova), Hemp's Adversities. Technical, Economic and Social Aspects Involved in the Protection of the Crops of a Strategic Asset from Parasites and Pathogens in Italy and France between the Seventeenth and Eighteenth Centuries, p. 91
MADELEINE FERRIÈRES
(Avignon), Peste bovine, peste humaine (France 1667-1778) : la construction compétitive d'une stratégie de lutte, p. 107
KATERINA KONSTANTINIDOU
(Università di Atene), La peste nelle isole Ionie durante il Seicento ed il Settecento: frequenza e regressione del fenomeno in un'area di "confine" tra l'Oriente e l'Occidente, p. 123
Martedì 28 aprile
INTERAZIONI DEMOGRAFICHE ED ECONOMICHE CON GLI IMPATTI BIOLOGICI / DEMOGRAPHIC AND ECONOMIC INTERACTIONS WITH BIOLOGICAL IMPACTS
Relazioni
RICHARD C. HOFFMANN
(York University, Toronto), Bugs, Beasts, and Business: Some Everyday and Long-Term Interactions between Biology and Economy in Preindustrial Europe, p. 137
PHILIP SLAVIN
(Yale University), The Fifth Rider of the Apocalypse: The Great Cattle Plague in England and Wales and its Economic Consequences, 1319-1350, p. 165
VICENTE PÉREZ MOREDA
(Universidad Complutense de Madrid), Una nueva interpretación de las relaciones entre mortalidad y economía: pruebas históricas contra del modelo de las "crisis de subsistencias", p. 181
GUIDO ALFANI
(Università Bocconi, Milano), Pestilenze e 'crisi di sistema' in Italia tra XVI e XVII secolo. Perturbazioni di breve periodo o cause di declino economico?, p. 219
DANIEL PANZAC
(Université Aix-en-Provence), La peste dans L'empire Ottoman 1700-1850. Épidemies, Démographie, Économie, p. 245
Comunicazioni
RICHARD ORAM
(University of Stirling) (with contributions by W. PAUL ADDERLEY) Lordship, Land and Environmental Change in West Highland and Hebridean Scotland c.1300 to c.1450, p. 257
THORKILD KJÆRGAARD
(University of Greenland), An Unnoticed Example of how the Black Death Altered the Course of History: Why America Was Discovered from Spain and not from Scandinavia, p. 269
YASSIR BENHIMA
(Institut historique Allemand de Paris), Epidémies et mouvements de populations au Maroc (XIVe-XVIe siècle), p. 279
EMANUELA DI STEFANO
(Università di Macerata), L'impatto delle crisi di morbilità-mortalità sui centri manifatturieri della Marca medievale: il caso di Ascoli, Camerino-Pioraco, Fabriano, p. 287
RAFFAELLO VERGANI
(Università di Padova), Peste e declino industriale in una valle alpina: la valle di Zoldo (Belluno) nella prima metà del Seicento, p. 301
Mercoledì 29 aprile
VIVERE NELL'INCERTEZZA: RISPOSTE RELIGIOSE, SCIENTIFICHE, CULTURALI ED ECONOMICHE AI RISCHI BIOLOGICI / LIVING WITH UNCERTAINTY: RELIGIOUS, SCIENTIFIC, CULTURAL, AND ECONOMIC RESPONSES TO BIOLOGICAL HAZARDS
Relazioni
CAROLE RAWCLIFFE
(University of East Anglia), The Concept of Health in Late Medieval Society, p. 317
ROBERT BRAID
(Université Paris VII - Denis Diderot), Economic Behavior, Markets and Crises. The English Economy in the Wake of Plague and Famine in the 14th century, p. 335
JOHN HENDERSON
(University of London), Public Health, Pollution and the Problem of Waste Disposal in Early Modern Tuscany, p. 373
PAUL SLACK
(University of Oxford), Plague, Population and Political Economy in England 1550-1730, p. 383
HANS-UWE LAMMEL
(Rostock), Western European Perception and Representation of Plagues in Eastern Europe, the Ottoman Empire and the Near East, 1650-1800, p. 399
Comunicazioni
MAREK SLON
(Polska Akademia Nauk), Entrate stabili in un'economia instabile. Le strategie economiche degli ospedali dell'Europa centrale nel Medioevo: l'esempio di Breslavia, p. 423
ANTONI CONEJO DA PENA
(Universitat de Barcelona), La financiación de los hospitales de la Corona de Aragón durante la baja edad media: condiciones sociales, económicas y espirituales, p. 437
ALESSANDRO PASTORE
(Università di Verona), Sepolture in tempo di peste: inquinamento ambientale e conflittualità sociale nell'Italia del Seicento, p. 445
ANDREA FERRARESE
(Università di Padova), Dalla pratica della tradizione alla scienza dei lumi. Le malattie dei cereali e gli scambi dei saperi nell'Europa moderna, p. 457
CARSTEN STÜHRING
(Georg-August-Universität Göttingen), Managing Epizootic Diseases in 18th Century Bavaria, p. 473
Giovedì 30 aprile
SALUTE E RICCHEZZA: GLI STANDARD DI VITA BIOLOGICI ED ECONOMICI / HEALTH VERSUS WEALTH - THE BIOLOGICAL AND ECONOMIC STANDARDS OF LIVING
Relazioni
TIM SOENS, ERIK THOEN
(Ghent University), Vegetarians or Carnivores ? Standards of Living and Diet in Late Medieval Flanders, p. 483
JOHN KOMLOS
(Ludwig-Maximilian-Universität München), The Biological Standard of Living in the West in the 17th and 18th Centuries, p. 517
Comunicazioni
AYSU DINCER
(University of Birmingham), Disease in a Sunny Climate: Effects of the Plague on Family and Wealth in Cyprus in the 1360s, p. 531
FABIO CAVALLI, SIMONE MASIER, MARIALUISA CECERE
(Accademia Jaufré Rudel), Stato socioeconomico e malattia in una popolazione signorile dell'Italia Settentrionale dall'analisi delle sepolture della Chiesa di San Giovanni di Prata di Pordenone, p. 541
DANIELE ANDREOZZI
(Università di Trieste), "Ritratto lacrimevole delle miserie e calamità humane". Crisi di mortalità e standard di vita nel Cremonese del XVII secolo, p. 563
THOMAS LE ROUX
(Université Panthéon-Sorbonne, Paris) Santés ouvrières et développement des arts et manufactures au XVIIIe siècle en France, p. 573
BERND HERMANN
, Comment, p. 578
TAVOLA ROTONDA CONCLUSIVA / CONCLUDING ROUND TABLE
Presidente / Chairman
:
WIM BLOCKMANS
, p. 593
Interventi / Interventions
:
BERND HERMANN, PAUL SLACK, , RICHARD HOFFMANN, BRUCE M.S. CAMPBELL, MASSIMO LIVI BACCI
Dibattito / Debate
:
BLOCKMANS, CAMPBELL, CHON, DARRYL, DINCERS, GROHMANN, HERMANN, HOFFMANN, MUNRO, NIGRO, NORTH, SLACK.