THE DATINI's ARCHIVE: the Correspondence



In the 592 envelopes, there are about 150.00 letters, 125.000 of which are commercial papers (divided according to the eight Datini
fondaci
) and 25.000 form part of his private and family correspondence, specialised correspondence, private deeds and various documents and loose papers.

The term
commercial or "common" correspondence
stands to signify the correspondence between merchant companies of every sort, without any specialisation in content or form. The 125,000 letters were sent to the eight Datini
fondaci
from 267 towns in Italy and abroad.
For the most part, they were written in Vulgar Tuscan (and in other regional forms of Italian), but also in Latin, Catalan, Castilian, Provençal, Arabic and Hebrew.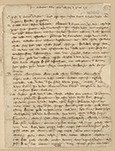 Eight thousand letters are relevant to
private and family correspondence
(even though they, too, often offer precious elements of economic order), exchanged between Datini's immediate family and relations (rich is
the correspondence with his wife, Margherita
) and collaborators. Another 3,000 letters were sent by various people to different towns.

The
specialised correspondence
consists of about 10,000 pieces. Some of the many themes and dispositions of the "common correspondence" have given rise to particular letters with a specialisation of content. The following types emerge from the Datini collection:

statements of account

ricordanze

(pledges)
bills of exchange and other banking security
clearing account orders
orders for payment
bank cheques
way bills

mandati di sicurtÓ

(insurance mandates)
strips and invoices

valute di mercanzia

(rates of merchandise)
ships' cargoes
permits.