L Study Week
Reti marittime come fattori dell'integrazione europea - Maritime Networks as a Factor in European Integration
Prato, May 13th to 17th 2018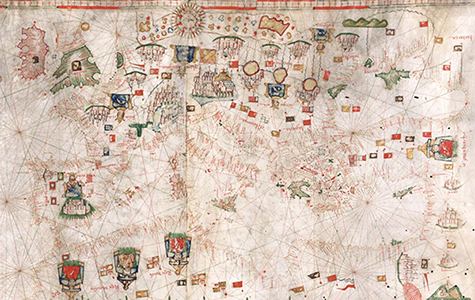 Carta Nautica, 1520

IN CHE MODO LE ROTTE DI NAVIGAZIONE SONO SERVITE COME ELEMENTO DI CONNESSIONE? / HOW DID SHIPPING ROUTES SERVE AS A CONNECTING FORCE?
Nenad Fejic
(Antilles), Extension, ramification, temporalité et dangerosité d'un grand réseau, situant Raguse (Dubrovnik) au point nodal des échanges entre la Péninsule Ibérique et l'Orient méditerranéen (XIII-XV siècle)
Renard Gluzman
(Tel Aviv), Gerassimos Pagratis (Atene), Vessel Tracking: Venice's Marine Traffic in the First Half of the Sixteenth Century – a Geospatial Analysis
Luciano Palermo
(Roma), Aspetti dei traffici commerciali internazionali nel Mediterraneo occidentale tra XIV e XV secolo
David Igual Luis
(Castilla-La Mancha), Movimento portuale, reti marittime e diversità di mercati a Valenza durante il XV secolo
Angela Orlandi
(Firenze), Tra Mediterraneo e Mare del Nord: reti di uomini e porti (secoli XIV-XV)
Richard Unger
(Vancouver), Markets and merchants: commercial and cultural integration in northwest Europe, 1200-1650
IN CHE MODO I PUNTI NODALI HANNO MESSO IN RELAZIONE SFERE COMMERCIALI DIVERSE? / HOW DID NODAL POINTS BRING TOGETHER DIFFERENT COMMERCIAL SPHERES?
Gelina Harlaftis
(Ionian), Black Sea and its maritime networks, 1770s-1810s. The beginnings of its European integration
Amândio Barros
(Porto), Early Modern Portuguese Ships, Seaports and Management of Maritime Networks
Benedetto Ligorio
(Roma Sapienza), Un ponte tra ottomani e cristiani: il network degli ebrei di Ragusa tra Balcani e Adriatico (1585-1635)
Louis Sicking
(Leiden), Funduqs, vitten, feitorias, factories: The Institutional Foundations of Overseas Trade or The Globalisation of a Concept?
Luisa Piccinno, Andrea Zanini
(Genova), Genova colonizzatrice, Genova colonizzata: la città portuale come polo di attrazione per i mercanti stranieri (secc. XVI-XVIII)
Werner Scheltjens
(Leipzig), Maritime transport services clusters in preindustrial Europe (ca. 1650-1800)
Francis Brumont
(Toulouse), Deux ports semblables, mais que tout oppose : Bordeaux et Rouen au XVIe siècle
Maria Ryabova
(Moscow), Venetian Trading Company of the Soranzo Brothers and Its Commercial Network
Joana Sequeira, Flávio Miranda
(Lisbon-Porto), 'A Port of Two Seas.' Lisbon and European Maritime Networks in the Fifteenth Century
Manuel F. Fernández Chaves, Rafael M. Pérez García
(Sevilla), Negocios comunes y relaciones económicas entre mercaderes burgaleses, portugueses e italianos en Sevilla durante el siglo XVI
IN CHE MISURA IL LIBERO SCAMBIO E IL PROTEZIONISMO FACILITARONO L'INTEGRAZIONE DI RETI MARITTIME? / TO WHAT EXTENT DID FREE TRADE AND PROTECTION FACILITATE THE INTEGRATION OF MARITIME NETWORKS?
Antonio M. Macías Hernández
(Laguna), José Ignacio Martínez Ruiz (Sevilla), Between free market and guild control: the wines of the Canary Islands, Málaga and Jerez in the Atlantic markets (mid-17th to mid-18th Centuries)
Justyne Wubs-Mrozewicz
(Amsterdam), Conflict managers in northern Europe
Daniele Tinterri
(Torino), La rete commerciale di un albergo genovese tra il Mediterraneo e l'Atlantico : i Giustiniani (XIV-XVII secolo)
Guillaume Calafat
(Paris Sorbonne), The Corsican Connection. Trading Networks and Maritime Jurisdictions between Ottoman North Africa and Southern Europe (1550s-1650s)
QUALI CARATTERISTICHE DELLO SCAMBIO CULTURALE O DI PRODOTTI PARTICOLARI SONO SERVITI A INTEGRARE LE RETI MARITTIME? / WHICH FEATURES OF CULTURAL EXCHANGE SERVED TO INTEGRATE MARITIME NETWORKS OR WERE THEIR PARTICULAR PRODUCTS?
Antoni Picazo Muntaner
(Baleares), Repensando el capitalismo en la primera edad global : comercio marítimo anglo-holandés y puertos de carga secundarios en el Indopac
Minna Rozen
(Haifa), Jews and other strangers: Between the Mediterranean and the Indian Ocean in the 17th through 18th Centuries
Wendy R. Childs
(Leeds), England's maritime and commercial networks in the late middle ages
Leos Müller
(Stockholm), Scandinavian trade and shipping in the Mediterranean in the 18th century
Pierrick Pourchasse
(Bretagne Occidentale), Les réseaux négociants européens et les échanges entre la France et l'Europe du Nord (XVIIe -XVIIIe siècles)
Jari Ojala
(Jyvaskyla), Maritime information networks between northern and southern Europe during the 18th century
SCAMBI INTERCONTINENTALI / INTERCONTINENTAL EXCHANGES
Paolo Calcagno
(Genova), Attraverso la "porta" di Lisbona: i generi coloniali volano del commercio luso-genovese tra XVII e XVIII secolo
Luca Lo Basso
(Genova), Corallo, diamanti e armamento marittimo nelle strategie economiche dei Genovesi tra XVII e XVIII secolo: il network mercantile dei fratelli Nicolò e Pietro Francesco Fieschi
Renato Ghezzi
(Catanzaro), I porti italiani e il Levante nei secoli XVI e XVII
Abraham David
(Jerusalem), Federico Pigozzo (Verona), Helmut Rizzolli (Innsbruck), Aspetti economici e sociali del commercio di un bene di lusso fra Africa ed Europa: le piume di struzzo
Stefania Montemezzo
(Bologna), All roads lead to Venice. The role of public navigation in the Renaissance