SCENES of LIFE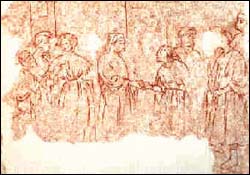 In November 1410, the rectors of the
Ceppo
poorhouse entrusted the painters Ambrogio di Baldese, Niccolò di Piero Gerini, Alvero di Piero (better known as Alvaro Pirez d'Evora), Lippo d'Andrea and Scolaio di Giovanni, with frescoing the façade of the palazzo.
Their commission was to fresco 2,200 square ells as marble. Furthermore, the artists were to execute sixteen painted stories of the life of
Francesco di Marco Datini
, and six blazons of the
Ceppi
institution on a silver field and gilded lilies, as well as fifteen smaller coats-of-arms in other properties. The recompense for each "story" was eight florins. For each of the big blazons, one-and-a-half florins were paid; for the small ones, twenty
soldi
. The marble frescoes were paid five
soldi
the square ell. All-in-all, the recompense was 278 florins, 5
soldi
and 10
denari
in gold, to which over sixty florins were added for the purchase of the gold and the colours which were needed..
The same painters were entrusted with "painting the roof" for a total of 464 ells per floor. Of the work carried out, only a few sinopias remain. These have been detached and are today kept inside the palazzo.