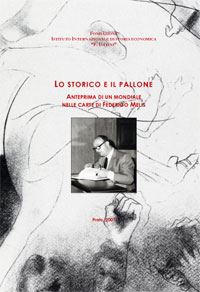 ©Fondazione Istituto Internazionale di storia economica F. Datini, Prato


FONDAZIONE ISTITUTO INTERNAZIONALE DI STORIA ECONOMICA "F. DATINI"
Lo storico e il pallone. Anteprima di un mondiale nelle carte di Federigo Melis
Prato, 2007, limited edition, € 5

Published, with the contribution of the "Banca di Credito Cooperativo" - Area Pratese, in occasion of the campaign associates 2007.


The volume consists in the reproduction of a booklet handwritten from the young Federigo Melis and found in his archives. Written in years Thirt, it is dedicated to the debut (1910-1932) of italian football team. Thanks to the availability of the Museum of Soccer, the volume contains reproductions of some period pictures.
Published, with the contribution of the: