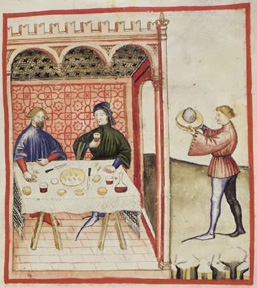 Scuola di Giovanni de' Grassi, Furmentum elixum, in Theatrum sanitatis, sec. XIV
©Biblioteca Casanatense, Roma


FEDERIGO MELIS
Come bere il vino nel sistema dei cibi
Prato, 1997, limited edition, out of sale

Published in occasion of the auction sale of wines of Federigo Melis' wine cellar - Farsett Arte, 16 Decembers 1997, with the contribution of the "Accademia Italiana della cucina" - Delegazione di Prato .


Extract from: Atti dell IIa settimana dei vini tipici e pregiati: Siena, 15-23 giugno 1968.
Siena, Ente Autonomo Mostra - mercato nazionale vini tipici e pregiati, 1968.