Return to:
List of the online works of the library
Go to:
List of the images in this work
Ricc. 1978, ERASMO MAGNO DA VELLETRI
,
Imprese delle galere toscane
Sec. XVI fine-XVII inizi (1597-1616).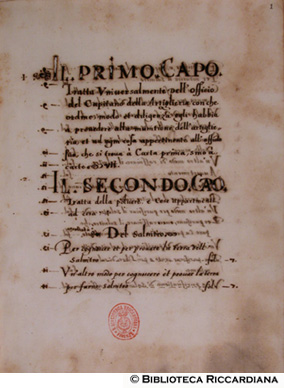 Cart.; mm 333x230; cc. I, 277 (numerate 274), II' + 19 tavole. Legatura di restauro in pergamena. Nota dello scrittore Magno figlio di Popeo Magno da Veletre (c. IV). Dedicato a S.A.S Cosimo II dei Medici (?).