Return to:
List of the online works of the library
Go to:
List of the images in this work
St. 10246, VITTORIO ZONCA
,
NOVO TEATRO/ DI MACHINE ET EDIFICII/ Per varie et sicure operationi/ con le loro figure tagliate in rame/ et la dichiarazione, e dimostrazione/ di ciascuna. Opera necessaria ad Architetti, et a quelli,/ che di tale studio si dilettano. /Al Ill.mo Sig.re et Prone(Patrone) mio Col.mo Il. Sig.r/ NICOLÓ de LAZARA Conte del Priorato di San/GIO BATTISTA del PALÚ Gentl'Huomo/Ordinario Della Camera Della Maestà/Christianissima./
In Padova Appresso Francesco Bertelli, 1621 - incisori: Francesco Valesio, Benjamin Wright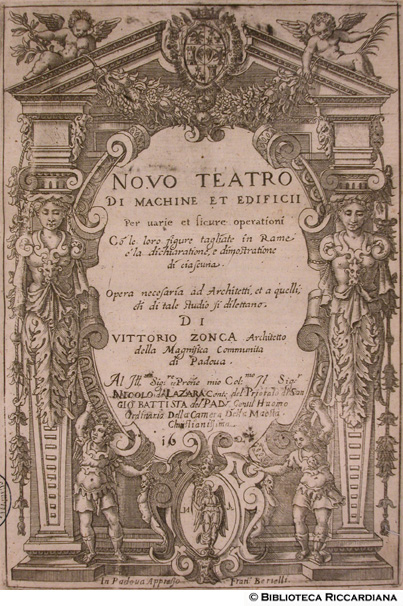 [6], 115 [ma 119] p.; ill.; fol. Legatura in carta marmorizzata su cartone con inserto sul dorso di pelle con impressioni in oro.