Return to:
List of the online works of the library
Go to:
List of the images in this work
Ricc. 1005, DANTE ALIGHIERI
,
Inferno e Purgatorio, col commento acefalo di Jacopo della Lana
Sec. XIV, secondo quarto; Bologna, "l'Illustratore" (attr.).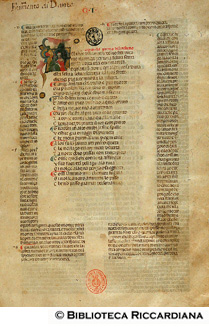 Membr.; mm. 380x250; cc. II, 187, II°;littera textualis (copista: maestro Galvano da Bologna). Legatura in assi e mezza pelle.