Return to:
List of the online works of the library
Go to:
List of the images in this work
A A.p.4.?(SSA2), STEPHEN HALES
,
Instructions pour les mariniers, contenant la maniere de rendre l'eau de mer potable; de conserver l'eau douce, le biscuit, le bled; et de saler les animaux, et diverses autres expériences physiques, lûës dans la Société Roïale de Londres. Traduit de l'anglois de Mr. Hales ... .
A La Haye : chez Pierre Paupie, 1740. - Incisioni: anonimo XVIII sec.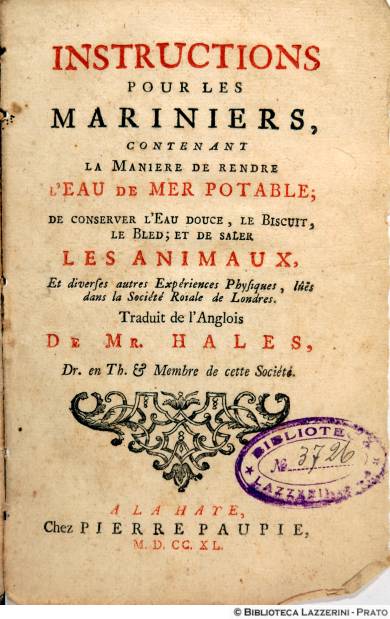 LIV, [IV], 264 p., [2] c. di tav. ripieg. : ill. ; 8° (17 cm)
Segn.: [pi greco]1 *-3*8 4*-5*2 A-Q8 R4. - Pref. del traduttore alle p. III-XXIV. - Nome del traduttore dal catalogo Bnf online. - Impronta: mer. t.r- T.de detr (3) 1740 (R)
Altri autori: Bertrand, Jean [1708-1777]