Return to:
List of the online works of the library
Go to:
List of the images in this work
LA A.b.8.25(SSA1), STEPHEN HALES
,
La statique des vegetaux, et l'analyse de l'air. Experiences nouvelles lûes à la Societé Royale de Londres. Par M. Hales D. D. & membre de cette Societé. Ouvrage traduit de l'anglois, par M. de Buffon, de l'Académie Royale des Sciences.
A Paris : chez Debure l'aîné, à l'entrée du Quay des Augustins, du côté du Pont Saint Michel, à Saint Paul, 1735. - Incisioni: Maisonneuve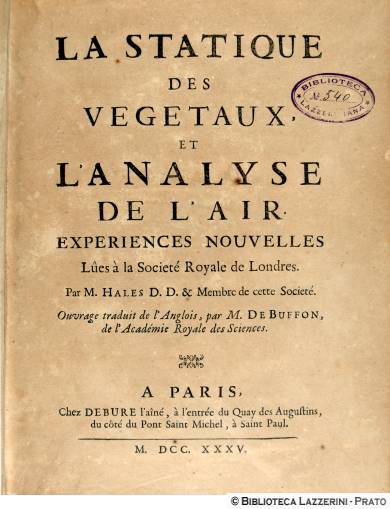 XVIII, [8], 408, [2] p., [10] c. di tav. ripieg. : ill. ; 4° (26 cm)
Segn.: a-c4 d2(-d2) A-3E4 [chi]1. - Con una pref. del traduttore. - Impronta: geb- ilJe n-r- mola (3) 1735 (R)
Altri autori: Buffon, Georges-Louis : Leclerc, comte de