Return to:
List of the online works of the library
Go to:
List of the images in this work
LA A.b.1.28(SSA3), GUIDO GRANDI
,
Instituzioni meccaniche trattato del Padre Abate D. Guido Grandi ex-generale camaldolese, e professore di mattematica nell'Università di Pisa.
In Venezia : presso Gio: Battista Recurti, 1750. - Incisioni: anonimo XVIII sec.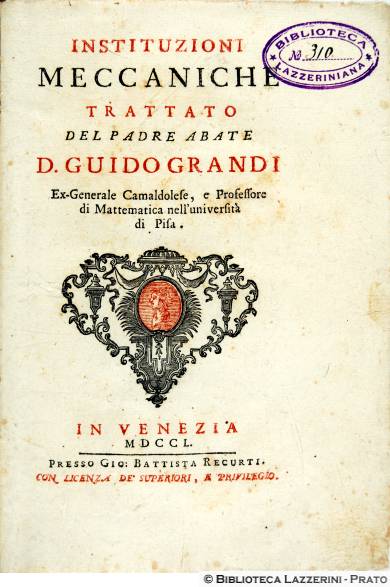 VIII, 160 p., 20 c. di tav. ripieg. : ill. ; 8° (21 cm)
Segn.: *4 A-K8. - Impronta: toro e;n- o-a- setr (3) 1750 (R)