Return to:
List of the online works of the library
Go to:
List of the images in this work
Degr.A.393/6 - GIOVANNI FRANCESCO GEMELLI CARERI
,
Giro del mondo del dottor D. Gio: Francesco Gemelli Careri. Parte sesta. Contenete le cose più ragguardevoli vedute nella Nuova Spagna. In questa seconda Edizione di molto accresciuto, e ricorretto, e di nuove figure adornato. In Napoli, nella Stamperia di Giuseppe Roselli, 1708. Con licenza de' Superiori, e Privilegio. Presso Francesco Antonio Perazzo.
Napoli, Giuseppe Roselli, 1708. - Incisore: anonimo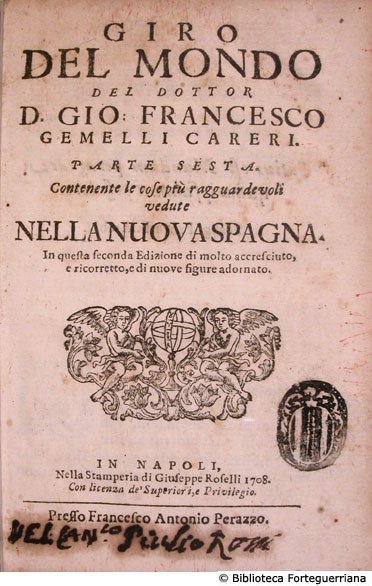 [4],292,[12]p., [13] c. di tav. con calcografie: ill.; 8° - Composto da 6 vol. (Degr.A.393/1, Degr.A.393/5-6, mancano il 2-3-4 vol.), in 8°, pubblicati nel 1708.