Return to:
List of the online works of the library
Go to:
List of the images in this work
Sala V.2.3.10-15 - DE ROGISSART
,
Les delices de l'Italie. Qui contiennent une Description exacte du Pays, ... . Derniere Edition ... avec une Table des matieres fort ample et fort exacte; Par Jean de la Faye. Divisée en six Tomes.... Tome Premier [- sixieme]. MDCCIX.I. A Leide, Chez Pierre Vander A.a. 1709. Avec Privilege.
Fleide, Pierre Vander, 1709. - Incisore: anonimo francese, anonimo, Joseph Mulder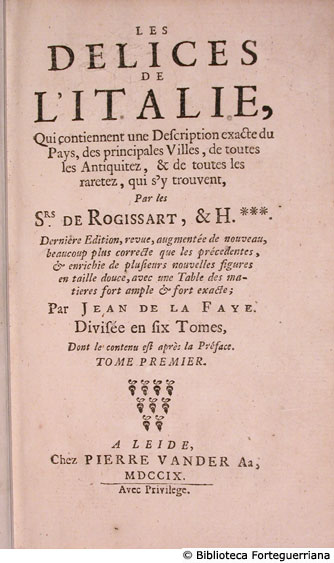 Composto da 6 vol. (Sala V.2.3.10-15) in 12°, publicati nel 1709. - Provenienza: Ferdinando Martini