Return to:
List of the online works of the library
Go to:
List of the images in this work
Sala II.T.268 - ROBERT SMITH
,
Cours complet d'optique, traduit de l'anglois de Robert Smith, contenant la Théorie, la Pratique et les Usages de cette Science. Avec des Additions considérables sur toutes les nouvelles découvertes qu'on a faites en cette matière depuis la publication de l'Ouvrage Anglois. Par L.P.P. ancien Professeur Royal d'Hydrographie, à Marseille. Tome second. A Avignon, Chez La Veuve Girard & François Seguin, Impr. Lib. Place St. Didier. Jean Aubert, Impr. Lib., près le Change. Se vend a Paris, Chez Charles-Antoine Jombert, Lib. Du Roi, Rue St. Jean de Beauvais. M. DCC. LXVII. Avec Permission des Supèrieurs.
Parigi, Charles-Antoine Jombert, Charles Saillant, 1767 - Incisori: Faure e anonimo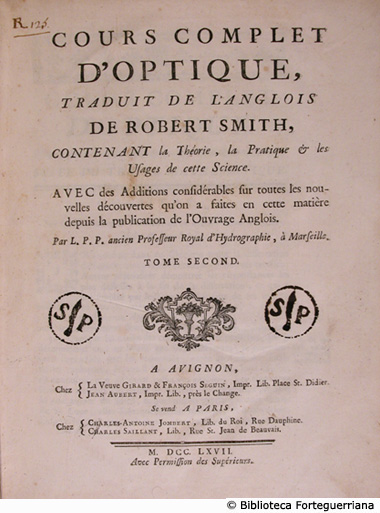 [2], 536, [2] p., [34] c. di tav.: ill. 4° - 2 vol. (Sala II.T.267-268) in 4° ill. con 73 tav. incise Provenienza: Sapienza