Return to:
List of the online works of the library
Go to:
List of the images in this work
Sala II.I.711 - CHARLES FRANÇOIS ROLAND LE VIRLOYS
,
Dictionnaire d'Architecture, Civile, Militare et Navale, Antique, Ancienne et Moderne, et de tous les Arts et Métiers qui en dépendent; Don't tous les Termes sont exprimés, en françois, latin, italien, espagnol; anglois et allemand. Enrichi de cent une Planches de Figures en Tailleduoce, pour en faciliter l'intelligence, auquel on a joint Une Notice des Architectes, Ingénieurs, Peintres, Sculpteurs, Graveurs et autres Artistes les plus celebres, don't on rapporte les principaux ouvrages. Par M. C. F. Roland Le Virloys, cidevant Architecte du Roi de Prusse, & depuis de l'Impératrice-Reine. Tome Troisieme. A Paris, Chez les Libraires Associés. M. DCC. LXXI. Avec Privilege du Roi.
Parigi, les Libraires Associés, 1770-71 - Incisore: anonimo francese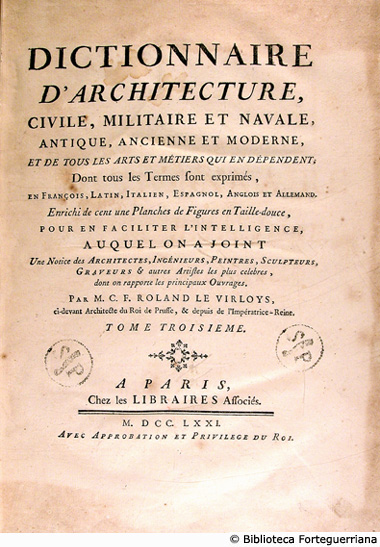 3 vol.: [4], 152, 298 [i.e. 297], [3] p.,. ill. da 99 Tav., 4°