Return to:
List of the online works of the library
Go to:
List of the images in this work
Sala II. H. 277 - FLAVIUS VEGETIUS RENENATUS
,
Flavi Vegeti Ren. v. inl., De Re Militari, Libri Quatuor; post omnes omnium editiones ope veterum librorum correcti, a Godescalco Stewechio Hevsdano. Accesserunt Sex. IVLI, Frontini Strategematôn libri quatuor; In eosdem Francisci modii Notae, & G. Stewechi Coniectanea: Aelianvs De instruendis aciebus: Modestus De vocabulis rei militaris: Castramentatio Rom. Ex historiis Polybii, Latinitate donata à Iano Lascari, &c. Accessit seorsum eiusdem G. Stewechi in Fl. Vegetium Coimmentarius. Antuerpiae, Apud Christophorum Plantinum./ M. D. LXXXV.
Anversa, Christophe Plantin, 1585 - Xilografie: anonimo fiammingo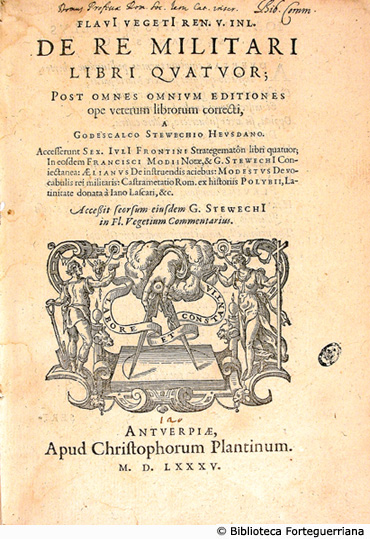 2 pt. ([12], 276, [16], 419 [i.e. 399], [17] p.), [1]c. di tav.: ill. ; 4°
Provenienza: Niccolò Puccini. Giusfredi