Return to:
List of the online works of the library
Go to:
List of the images in this work
Sala II.G.371/1-2 - HENRI LOUIS DUHAMEL DU MONCEAU
,
Del governo dei boschi ovvero mezzi di ritrar vantaggio dalle macchie, e da ogni genere di piante da taglio, e di dar loro una giusta stima. Con la descrizione delle Arti, che si esercitano nelle Foreste, Opera che forma parte del trattato intero dei Boschi, e delle Selve. Del Signor Duhamel du Monceau dell'Accademia Reale delle Scienze ec.ec.ec. Arricchita di rami e ora tradotta in italiano dall'Abate Giulio Perini Patrizio Fiorentino ..., in Venezia, MDCCLXXII, per Giambattista Pasquali con licenza dei superiori.
Venezia, Giambattista Pasquali, 1772 - Incisore: anonimo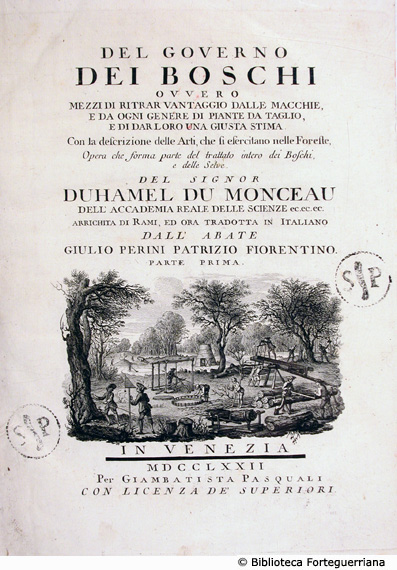 2 vol., 4°, illustrati da tavole con incisioni - Provenienza: Sapienza