Return to:
List of the online works of the library
Go to:
List of the images in this work
Rari 507, HARTMAN SCHOPPER
,
ΠANOΠΛIA [Panoplia]/ Omnium illiberalium me-/chanicarum aut sedenta-/riarum artium genera continens, quot-/quot vnquam vel à veteribus, aut nostri/ etiam seculi, celebritate excogitari potue-/runt, breuiter & dilucidè confecta: carmi-/num liber primus, tum mira varietate re-/rum vocabolarumq[ue], nouo more exco-/gitatorum copia perquàm vti-/lis, lectùque periu-/cundus./ Accesserunt etiam venustis-/simae imagines omnes omnium artificum nego-/ciationes ad viuum lectori representantes,/ antehac nec visae, nec vnquam/ aeditae: per/ Hartman. Schoppervm,/ Novoforens. Noricvm./ Francofvrti ad Moenvm,/ cvm privilegio caesareo,/ MDLXVIII.
Francoforte sul Meno, George Corvinus e Siegmund Feyerabent, 1568 - Xilografie: Amman Jost (incisore)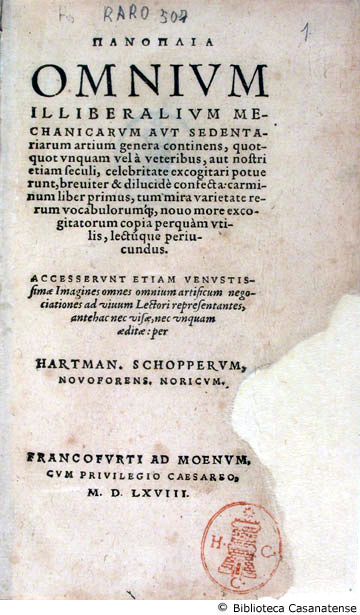 8˚, [147] (i.e 148) c.; ill. - Ill. xilografiche
Seconda edizione in lingua latina con 130 xilografie di Jost Amman.