Return to:
List of the online works of the library
Go to:
List of the images in this work
20. B. I. 97
,
Recueil d'estampes d'apres les tableaux des peintres les plus celebres d'Italie, des Pays-Bas et de France, qui son à Aix dans le cabinet de M. Boyer d'Aguilles, Procureur Général du Roy au Parlement de Provence, graveés par Jacques Coelemans d'Anvers, par les soins, & sous la direction de Monsieur Jean-Baptiste Boyer d'Aguilles conseiller au même parlement. Avec une description de chaque tableau, & le caractere de chaque peintre. A Paris, Chez Pierre-Jean Mariette, rue Saint Jacques, aux colonnes d'Hercule, MDCCXLIV.
Parigi, Pierre-Jean Mariette, 1744. - Calcografie: Jacobus Coelemans (incisore), David Téniers II il giovane (autore), Sebastien Bourdon (autore), Trophime Bigot (autore), Adrien van der Cabel (autore), autori vari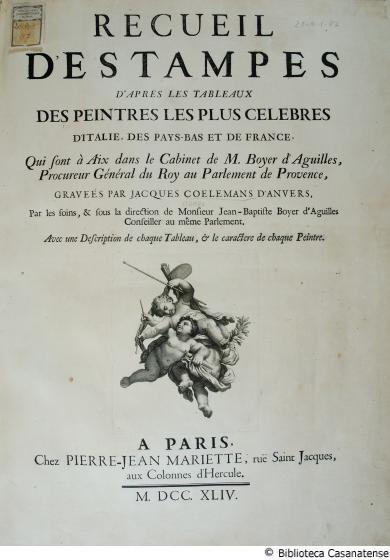 118 c. di tav.